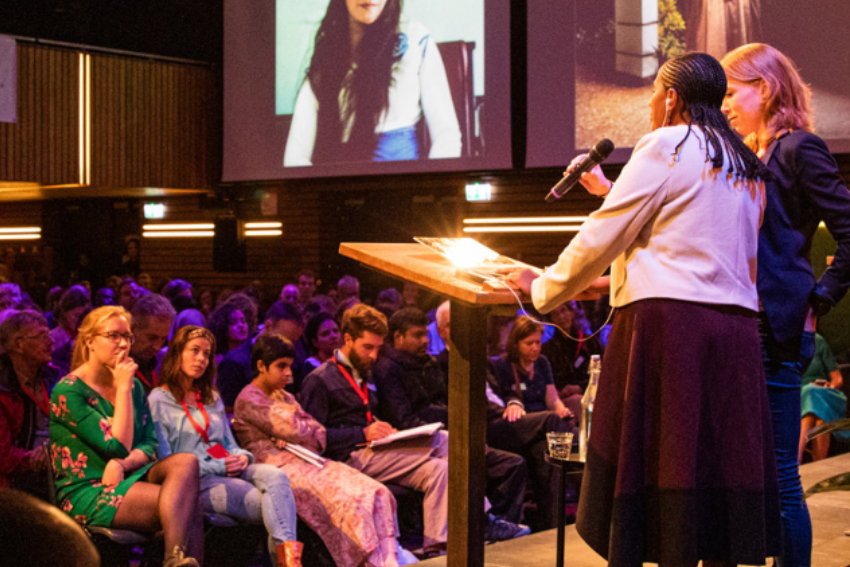 We are happy to announce that we are participating in the Partos Innovation Festival 2022! Join the festival on October 14 and our interactive workshop 'Innovating towards Inclusion: is intersectionality the answer?'
Is intersectionality the answer to leave no one behind? Will it help to counter exclusion of people who are often overlooked? While intersectionality as a lens is gaining traction, the practical execution can be complex. NGOs, donors and those working in the field of development struggle with analysing problems and those most marginalised from an intersectional perspective. This while an intersectional lens can help with identifying the groups that are truly most marginalised and those that are discriminated against or excluded on multiple intersecting grounds.
As strategic partnership Make Way we invite you to a hands-on workshop, featuring youth advocates and development specialists from Uganda and Kenya, to dive into the concept with us. We will show you how we use Intersectionality in our lobby & advocacy in Ethiopia, Zambia, Rwanda, Uganda and Kenya. And we'll share our practical approach to using intersectionality within our work to improve people's access to their Sexual and Reproductive Health and Rights (SRHR) through advocacy.
During the interactive workshop we will reflect on the Community Score Card, a tool that is well-equipped to perform intersectional analyses that clarify grounds for exclusion and for being left behind based on how community's score their services and rights. It shows the Availability, Accessibility, Acceptability and Quality (AAAQ) of health services young people can access. By getting the scores of the health services we find out what is most urgent to advocate for.
Together with participants, we want to find out if and how you can use an intersectional version of the Community Score Card in your own work. How we can ensure civic power is inclusive and doesn't include only those with a loud voice, good access to stakeholders or certain identity characteristics. And to explore whether and how intersectionality can help us reach even the people that so often get left behind.
When: October 14, 2022. 10.15 -12.30 CET
Where: Expo, Piet Heinkade 179, 1019 HC, Amsterdam
Organised by: VSO and Wemos
Facilitators: Caroline Wambui, Innovation Manager, VSO Make Way Programme (Kenya); Nicholas Omoko, National Coordinator, National Youth Engagement Network (Uganda); and Sietse Blom, Political Advisor, VSO (Netherlands)
Full programme and tickets: https://www.partos.nl/innovation-festival/
Partos Innovation Festival
Each year, Partos, the Dutch umbrella organisation for development cooperation, unites national and international voices to share innovative ideas, best practices and stories that matter. The ninth edition of the festival focuses on inclusive civic power as an essential force for social change. Together with NGOs, civil society leaders, artists, social entrepreneurs and many more, we create the necessary fuel for action and change!
Check out the full festival programme and get your tickets: https://www.partos.nl/innovation-festival/
About Make Way
Within Make Way, we are committed to ensure sexual and reproductive health and rights (SRHR) for all. SRHR are human rights, that allow people to make informed decisions about relationships, their bodies, family planning, sexuality, and wellbeing. It also means having access to a full range of sexual and reproductive health services, such as maternal care, sex education and choice of safe and effective contraceptive methods.
The Intersectionality Consortium, which leads our Make Way programme, consists of Akina Mama wa Afrika, The Circle of Concerned African Women Theologians, Kenya, Forum for African Women Educationalists, Liliane Foundation and Wemos, and we work in partnership with the Dutch Ministry of Foreign Affairs. The programme is being implemented Ethiopia, Kenya, Rwanda, Uganda, and Zambia, the (Eastern and Southern) African region and at the global level.
Do you want to know more about Make Way? You can find more information here on our website or join the workshop on October 14!