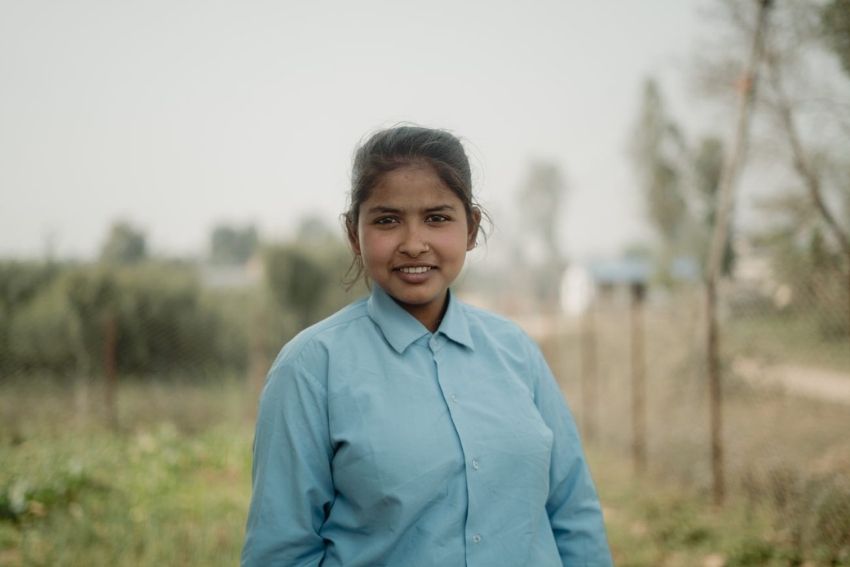 Despite education being a basic human right, many young girls in Nepal do not attend school due to poverty and discrimination. For girls with disabilities, like Izna, the challenges are even greater. Too often, they miss out on an education. With the ENGAGE project (Empowering a New Generation of Adolescent Girls with Education), we are committed to providing inclusive and quality education, so that these girls too can develop and pursue their dreams.
13-year-old Izna (pseudonym) from Banke in Nepal, was born with a hearing impairment. From an early age, she wanted to go to school. Her parents sent her to a private kindergarten, but she was forced to leave school. Izna: "The teachers did not have the right resources and skills to teach children with disabilities." Izna's parents did not think she could study. Therefore, she stayed at home and had to help in the household. Izna taught herself sign language to talk to her parents and siblings. Because she did not know the official sign language, she did not feel comfortable communicating with others. Without education, she ended up in social isolation at home.
Eager to learn
Changemakers like Trannum regularly go out to look for children who are out of school. When she met Izna, she immediately saw her eagerness to learn. She started talking to Izna and her parents and convinced them to enroll her in the catch-up class in her village. There Izna learned how to read, write, do math, and learn the official sign language. As a 'big sister' within the ENGAGE project, Trannum helps her 'little sister' with her homework.
Training and coaching
To be able to guide her little sister in the best possible way, Trannum receives training and coaching from changemaker Nitin. During the training they discuss how education can be made inclusive and she learns sign language so she can communicate well with Izna. In addition, they discuss the specific problems that girls with disabilities face. Nitin, together with the big sisters, looks at how they can help their little sisters stand up for their rights.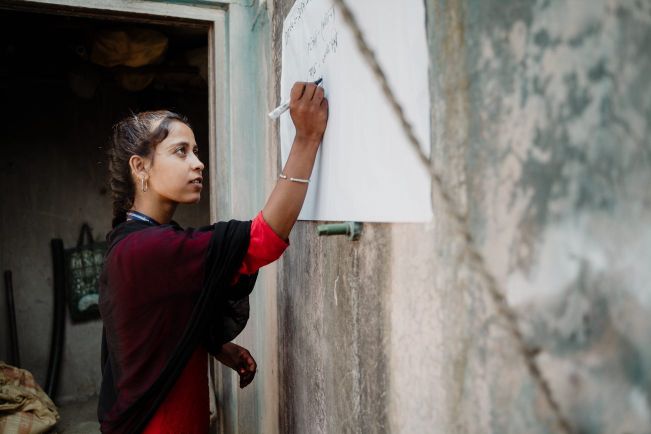 Big sister Trannum helps her little sisters with their homework
Lasting change
"Parents living in poverty are often afraid that their child with a disability will not be able to contribute to an income for the family and therefore marry off their daughter at an early age. In addition, the children face stigma and are seen as 'cursed'. They are therefore at greater risk of neglect and sexual abuse than other peers," says Nitin.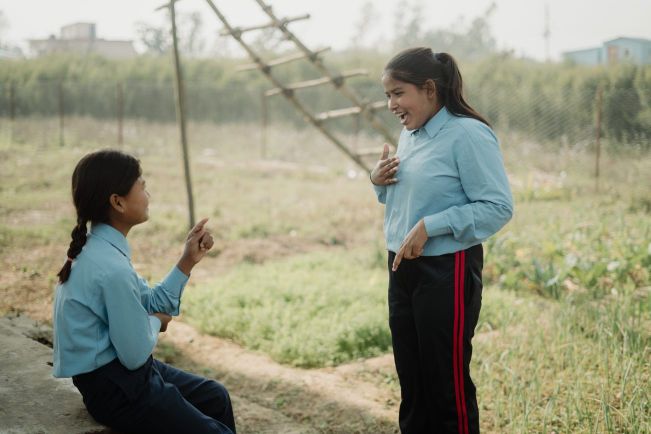 Little sisters and classmates Alina (left) and Izna (right).
He continues: "In addition to knowledge and support, we provide the girls with the right assistive tools, such as wheelchairs and hearing aids, and make school buildings wheelchair accessible. The assistive tools, education, and life skills that the little sisters learn increase their self-sufficiency and provide an opportunity to earn their own income and break out of the vicious cycle of poverty and discrimination. As my team and I train local big sisters and teachers, we ensure that the knowledge we share can be passed on from generation to generation. In this way, we can make a lasting change in the lives of many girls now and in the future."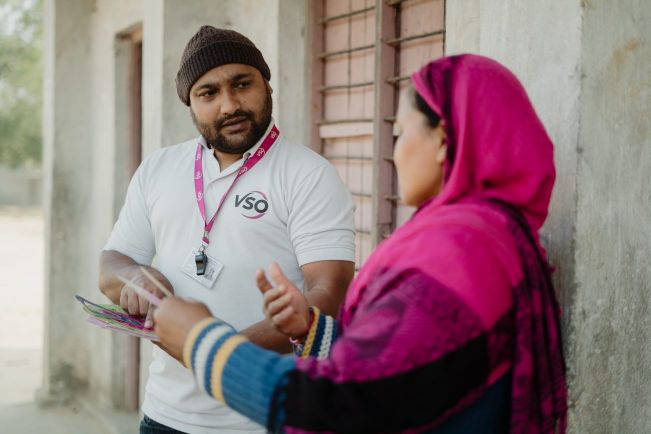 Nitin (left) trains and coaches teachers like Sabriti (right)
Self-confidence
Izna is doing very well now. After the catch-up class, Trannum helped her little sister enroll in the Rastriya Adharbhut school in Khajura, Nepal. Here she receives education from teachers who have experience teaching children with disabilities. Izna is doing well at school and can even participate in extracurricular activities for the first time. She feels more confident and feels more comfortable talking to others, both at school and outside school. Izna: "My life has changed in an incredibly positive way, and I am determined to continue my studies. School teaches me something new every day."
With your support, more girls can go back into education and gain the skills to shape their own future!
Izna now attends education, but there are still many girls who do not go to school. Together with other changemakers, Trannum and Nitin want to change the lives of more than 2,500 girls in the Terai region of Nepal. We need your support for this. Please help us and donate now!
Note: the donation form is in Dutch.
---
Credits
Photos: Suraj Ratna Shakya