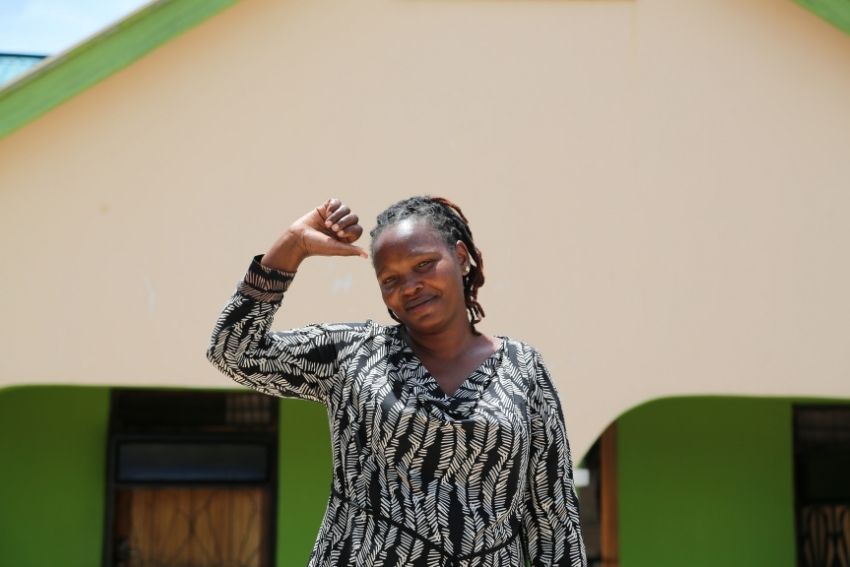 In Tanzania, tailor Felister suffered the consequences of the corona pandemic. With support from VSO, she managed to change course and to successfully play into the changes that the pandemic brought about.
Felister Matoke is a single mother of two children. When she was 16 years old, her parents forced her to get married. After three years, she divorced her husband. From that moment on, her parents didn't want to see her anymore and she and her children had to survive on the streets.
Training and start-up capital
Felister got in touch with VSO's partner organization SIDO (Small Industries Development Organization). Together they reviewed her problems, as well as her ambitions. Based on this conversation, SIDO supported Felister to enroll in a vocational training school to take a tailoring course. When she finished the course, she managed to start up her own tailoring business with start-up capital provided by SIDO.
Her own business
In 2017 Felister participated in a VSO business training. The changemakers that provided the training also helped her with the formal registration of her business. "Besides gaining knowledge and confidence on good business practices, VSO helped me to bring my products to the market." Since then, Felister has acquired more sewing machines, hereby increasing the production capacity, quality and profitability of her school uniforms and sweaters. In addition, she shared her knowledge and taught other young women how to tailor. She has inspired over 61 girls to start their own businesses!
Loss of sales due to corona
The corona pandemic had major consequences for Felister's business. Her main markets were schools and colleges, which were all closed because of the COVID-19 pandemic restrictions. She lost 70% of the market. "VSO saw that many entrepreneurs underwent the consequences of the pandemic and they offered me, and other entrepreneurs, trainings, and advice in order to respond to business opportunities and needs created by COVID. Instead of school uniforms and sweaters, I started making face masks and PPE-suits (personal protective equipment)."
More profit
"Since then, I sold hundreds of thousands of face masks. Also, with support from VSO, I managed to get a deal with the Medical Store Department. They asked me to deliver 70,000 locally produced PPE-suits in the Mwanza region. This assignment was so big that I had to hire more employees. I have now employed 16 young people and my profit has increased by 32 percent."
---
Credits
Foto's: Jack Howson