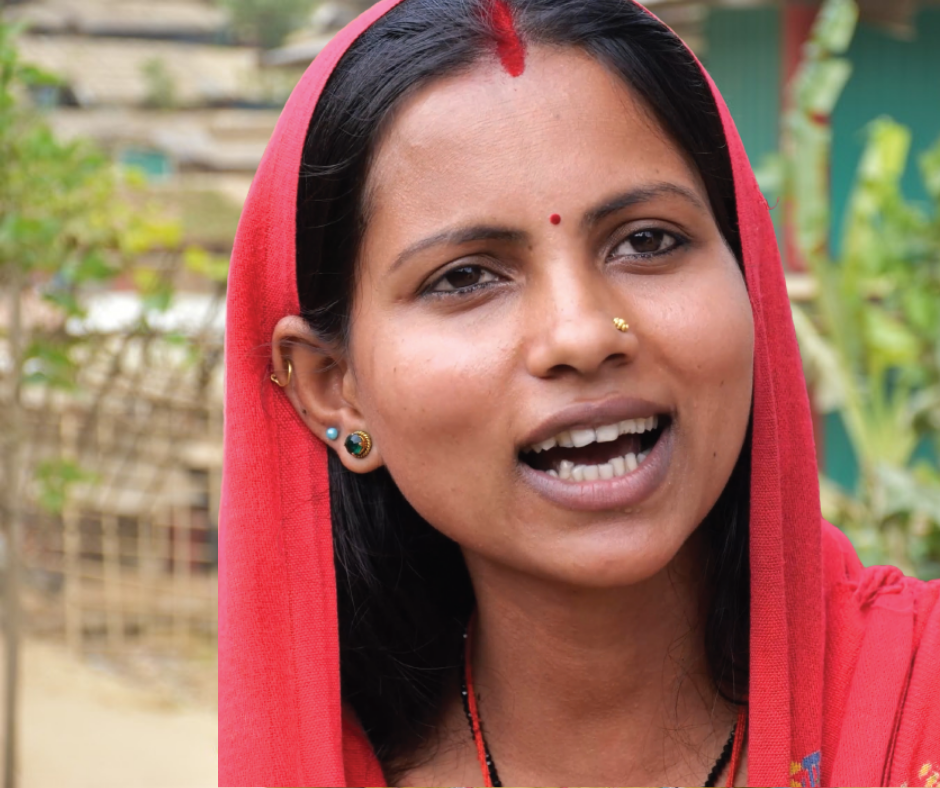 Munni Ram is from Lankasur, a small village in Nepal in Rajbiraj district. She was born and raised there, and still lives in de village. She, her parents and five siblings were the only Dalit family in the area. Growing up wasn't easy, the family was poor and the community discriminated them. With a little luck and a lot of hard work, Munni was able to grow up to be an important and influential figure in her community. This is changemaker Munni's story:
Growing up in poverty and discrimination
"In Lanksur, the village where I grew up, we were the only Dalit family. The Rajputs, Mandals and Yadavs and other ethnic groups around us felt like they were better than us. Some of them got angry if they saw us in the morning, they thought we were a sign of ill fortune. Seeing us meant a bad day. We were verbally abused and unwanted in the community.
A short insight on the caste system and the Dalit community:
The Dalit is a caste from the caste system. The total Dalit community is estimated to be around 260 million people. The Dalits are mainly settled in India, but also in Nepal, Sri Lanka, Bangladesh and Pakistan. The Dalits are low on the social ladder. So low, in fact, that they are not included in the caste system. That is why people (used to) call them 'untouchables'. Although discrimination on the basis of caste is illegal. There are, sadly, still a lot of people who value the caste system in that a way. This makes the Dalit community vulnerable to exploitation, (sexual) abuse and other crimes which often, and unfortunately still, go unpunished.
My brothers, sisters and I saw the other children in their white clothes going to boardschools. I dreamed of being able to go to school, wearing a nice white blouse. I was often sad about this and told my parents that I wanted to be like those other children. My father explained to me that this was not possible because he couldn't pay the school fees for six children.   
I was so young that I did not understand this. I ran away from home and went to a school to sit in a class room. The headmaster found out but he did not send me away. He spoke to my father and told him that the public schools had space for Dalit children. He told my father about the value of education and that he had to make sure that his children went to school. I remember very well my father's response to this: 'We don't even have enough money for food, how am I going to get books and other necessities for them?'   
And that was true, we were very poor. We ate during the day and went to bed on an empty stomach. We slept on and under the hay. And when my father could get work in Kathmandu, we would go and find some spinach in other people's fields to eat. Dispite of all this, our parents worked really hard and brought us up well, regardless of the poverty, discrimination and hatred we suffered. 
Being able to attend school
None of her siblings finished school. They had to work or take care of our sick mother. Sometimes they were beaten by teachers because their homework was not finished orwhen their work wasn't good enough.  I am the only onw who has completed an education.   
My eldest sister was married off when she was in primary school (8 or 9 years old). I was married off at the end of my secondary schooling, when I was 16/17 years old. I was lucky: my husband and in-laws supported me in my education. My husband went to work in Malaysia for three years, during this time I was raising our children. Now that he is back, things are better and I was able to do a course where I learned how to teach adults. In the town hall, I saw a vacancy that caught my eye. I met the requirements and applied. And so I got a job at SAHAJ."  
Working at SAHAJ
Munni received training through SAHAJ. She learned about gender-based violence and how to talk to people in the village about it and find solutions together. 
She became a familiar face in the village. Especially to the 80 women she supported. They had or have to deal with violence, abuse and discrimination. Munni is now the 'go-to' person when someone needs help and support. Through her work, Munni became involved in designing the SAHAJ Family Centered Approach.  
How is Munni doing?
"I am a mother of three. After my husband returned from Malaysia, he started working as a painter. We worked hard as a family and we saved up so that I could do a bachelor's degree in Education Programmes. SAHAJ has given me and others in the community hope. I know the community better, and they know me. After working with SAHAJ for several years, I am more aware about society and what my capabilities are. I have been able to make a difference for 80 women and their families. I hope to find a job that will allow me to support my family and children, so they never have to go through what I went through.".  
Strengthening Access to Holistic, Gender Responsive and Accountable Justice (SAHAJ)
SAHAJ is a consortium project led by VSO (Nepal) with International Alert (IA) and partners: Forum for Women, Law and Development (FWLD), Antenna Foundation Nepal (AFN); Emory University; SAMAGRA; and MAHURI Home. This project in Nepal aims to address gender-based violence by tackling harmful social norms, improving access to the police and justice system, and building the capacity of relevant institutions. This way survivors of gender-based violence get the support they need. To this end, we, among others, build youth clubs and provide training to security agencies and judicial institutions.
---
Written by: Pallav Ranjan
Translated and edited by: VSO Nederland
Photos: VSO
---
More stories from the SAHAJ project