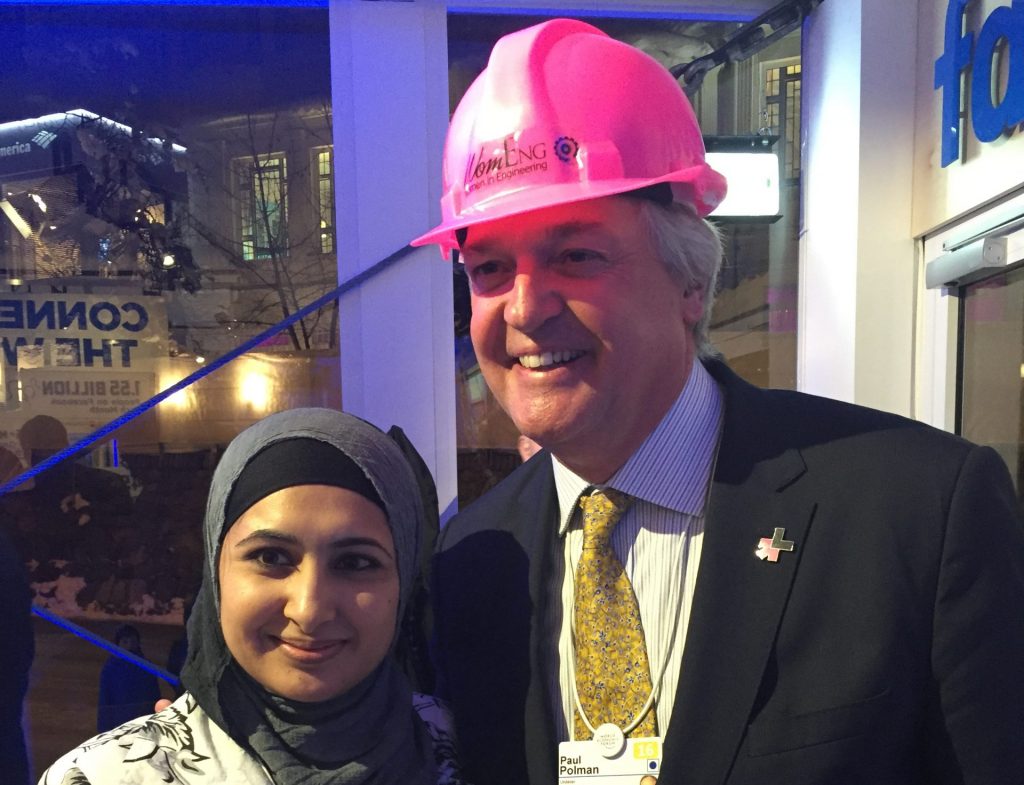 In her native South Africa, Naadiya Moosajee chose to study civil engineering. An unusual choice and certainly for a "colored" girl. In her third year, she had to search for a work experience placement. She found one in a steel mill. But during and after her work she experienced harassment by one of the factory employees.
Upon her return to the university, she also discovered that, unlike her male colleagues, she had not received any salary or compensation at work. When she discussed this with some of her fellow female students, they all had similarly disappointing experiences.
A clever girl
At first, the students considered choosing a different career path but realized that this was not the solution. Thus, in 2006 they started the organization WOMENG (Women in Engineering). They aimed to encourage more women to consciously opt for a technical profession. The organization also wanted to give women the confidence that they too can handle scientific subjects. Moreover, the world needed to be made aware of the qualities possessed by its female engineers.
Now, fourteen years later, the organization works with various partners in more than 22 countries. Everywhere, including Europe, there is a demand for the expertise of WOMENG members. The lack of women in technology is global. If women want to remain financially independent and participate in the economy of the future, then the choice of a technical education is a good way to go.
Sexism
Thanks in part to WOMENG's grassroots programs, an increasing number of women and girls are doing just that. Naadiya: "From the age of six, many girls think that choosing a technical profession is not suitable for them as females. This is why it is important to begin raising awareness in primary school."
The Forum for Women Educationalists FAWE, of which WOMENG is a member, has developed a model in which teachers are trained in the use of gender-sensitive curricula focused on science, technology, design and mathematics for their children. The model has aroused much interest and is now used in thirteen African countries. Together with VSO, Edukans and Africa Youth Movement, FAWE forms part of the equal opportunities' consortium.
But more women choosing and completing a technical education after elementary school is not enough. Naadiya says. "The world of technology was and is, still dominated by men. We try to remove, through lobbying, obstacles for women and prejudices about their capacities." That these ideas are still alive was evident in 2018, when the CEO of the Civil Engineering Institute in South Africa wrote a sexist opinion piece for a major national newspaper. It stated that women were suitable for giving birth and for cooking, but not for design or a technical profession. Only a few technology companies responded to the article.
WOMENG took it a step further. Naadiya: "Among other things, we responded on social media. We pointed out that more women are needed in these fields. Women leave the field of technology because of such outdated ideas and this is simply sinful." Eventually the article was withdrawn
Why we need women in engineering
Women are indeed needed, as old Dutch ad campaign proclaimed, in an attempt to entice girls into scientific and technical jobs "A smart girl is prepared for her future". This is also true with a view towards inclusiveness and participation. Naadiya: "The world around us is designed and made for men. Cities, for example, are designed for men. Consider public transportation. For many women, many of the shortest routes to a destination or the stops where they must wait are unsafe. People are traveling an hour longer to cover the same distance.
Crash dummies in cars are been tested on men, not on women. Women and children have a higher injury rate injured in traffic accidents than men. And while we are talking about cars; try wearing a seat belt when pregnant. Impossible. Also not designed for women."
She gives another example: "At many banks, the algorithms are still based on old ideas that granting a loan to women has greater risk. In fact, the opposite is the case. Women tend to repay a loan faster than men. But because the banking system assesses their application based on of this flawed data, women are less likely to get a loan and should they receive it, will often pay more interest. "
However, Products designed by women, tend to be more woman-friendly and inclusive in nature. Naadiya, laughing: "A simple example: I was recently very pleased when I had found a dress with pockets. I could put all my important things in them and I was no longer busy keeping tabs on my handbag to prevent it from being stolen. It made me feel a lot calmer. It can be that simple."
Working with Unilever
Unilever was one of the first parties to collaborate with WOMENG. The company wanted more female designers because they often use Unilever products, but these were designed by men. Unilever also plans to make a major contribution to achieving Sustainable Development Goals. To achieve this, all kinds of new technologies are needed. An example is the need to realize green and renewable energy. Here too, female engineers can make an important contribution.
| | | |
| --- | --- | --- |
| | | A pink safety helmet was one of the campaigns Unilever and WOMENG carried out together encouraging girls to choose technology. Safety helmets come in all sorts of colors, but never in pink, the ultimate "girl color". The pink safety helmet included in the campaign was a huge success, Naadiya says. "Girls liked him and Paul Polman was very enthusiastic." |