How can the Dutch Africa Strategy contribute to a more equal relationship between African partners and the Netherlands?
In times of interlinked and global polycrises, the need for a more equal cooperation relation between the Netherlands and African countries is evident. The Dutch Africa Strategy lays out a clear ambition towards more equality, local solutions to local challenges and shared ambitions towards sustainability and inclusion.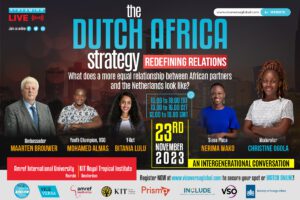 Redefining Relations Debate 
On 23 November we will reflect on the strategy with African youth, experts and international development professionals and give recommendations to the Ministry for implementing this strategy. Active listening, creating space for marginalised voices to be heard and an open attitude towards learning and creating positive impact together are crucial to make this an inclusive process. 
How do we ensure that this strategy truly contributes to an equal cooperation relation between the Netherlands and African countries? And how can civil society organisations, companies and knowledge institutes play a role in ensuring the Strategy truly achieves positive lasting impact for African partners? These questions will be central during the first interactive public discussion about the Dutch Africa strategy.  
Join the debate on 23 November from Amsterdam (KIT Royal Tropical Institute), Nairobi (Amref University) or via an online livestream. 
Redefining relations is an initiative of the Dutch Ministry of Foreign Affairs, AMREF, KIT Royal Tropical Institute, INCLUDE, Prisma, VSO, Vice Versa, and Vice Versa Global.